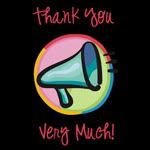 I have decided to jump on the free therapy bandwagon this week. Make sure to click on over to Kmama's at The Daily Dribbles and link up your own Thank You post!

To the woman, 30 years my senior, in Zumba that was droppin' it like it's hot and making me feel like an uncoordinated moron in comparison: thankyouverymuch!
To the sticky spot on my kitchen floor that I kept stepping on with bare feet but then couldn't find when I came back with a wet rag: thankyouverymuch!
To the child (who will remain nameless) that has been throwing raging tantrums in the middle of the night all week and disrupting mommy's necessary 8 hours: thankyouverymuch!
To the laundry that is never finished: thankyouverymuch!
And to the human vomit projector, for always aiming it at mommy (and causing the latter): thankyouverymuch!