Last Sunday, the children's choirs performed at our church's Sunday night service. This was Libby's first time to sing in church. She was so excited about going into "big church."
In the days preceding the concert, she practiced her songs for me over and over again.
And then she sang some more.
She was taking this seriously and wanted to have her part down perfectly.
(Libby is in the back row with the white hair bow.)
Oh, and when Libby watched this video, she said, "Why is that girl just frowning and not singing?" She couldn't believe not everyone was as serious about the performance as she was!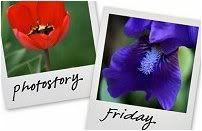 Hosted by Cecily