I love to read. More than just about anything else. And sometimes the line between fiction and reality gets a little blurry for me.
When I read New Moon for the first time (that's right, I said "first") I was 16 weeks pregnant with John. And just a little hormonal.
It probably wasn't the best timing.
I was spending the weekend with Emily for her son's baptism when I started the book. I was in bed reading that first night and Emily came in to say good night and see if I needed anything.
And she found me sobbing hysterically into my pillow.
Of course, she asked me what was wrong and I choked out the words, "I...I...I think...he...is...go...ing to...leave her."
And like any sane person trying to talk an irrational mess off the ledge good friend, she sat on the side of the bed and held my hand and asked, "Do you think maybe you are taking this so hard because you are pregnant? Because you know this isn't real."
"NO!" I (almost) shouted, "It is like he is leaving me!"
Did I mention the blurry line?
And I need to mention that at this point in time, Emily had not yet finished reading Twilight, so she didn't fully comprehend the magnitude of what was happening in New Moon. Two weeks later she was sending me frantic texts messages in the middle of the night about this exact same chapter!

I have heard others say that of the Twilight books, New Moon was their least favorite, but I disagree. I love New Moon. And I can't wait to see it played out on screen!

Go Team Edward!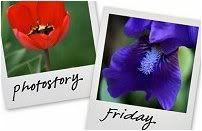 Hosted by Cecily and

Sue