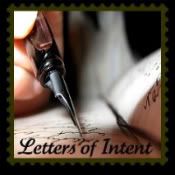 For more Letters of Intent, check out Foursons


Dear John's First Tooth,

We have been waiting for you for a while now. Almost three months actually. You first started dropping hints that your arrival was eminent when my sweet baby was just 4 months old. At the time, I thought that was a little premature, but what do I know. I'm just his mother.
As time went on, the hints got heavier. No longer was it just the buckets and buckets of drool and the biting. Now his gums were swollen and red and he wasn't complete without something in his mouth to chew on. Then came Niagara Falls out of his nose. Surely you couldn't be far behind. And yet day after day, week after week goes by with no sign of you.
Now I love a snotty nose rubbed on my shoulder as much as the next mommy, but really...enough is enough! It is one thing to be fashionably late but it is entirely another to RSVP and then just not show up. My son and I do not appreciate being stood up!

As I have comforted my baby these last weeks, assuring him that it isn't him, it's you, I have come to a conclusion...

Either you are just a sadistic creep that enjoys torturing my son with buckets of drool, swollen gums and a runny nose

OR

you have been kidnapped by the tooth fairy's evil twin and are desperately sending out an SOS.

So which is it...do you need me to send out a rescue team or am I just going to have to kick your butt? Either way, I am coming in with a pair of pliers if you don't show up soon.
Sincerely,
a mommy, not a chew toy