Once upon a time, there were two best friends.
And these two friends had two children, Jack and Libby.

At first, Jack wasn't sure what to think of Libby!
But I think he likes her now!
Soon, two more children were added to the bunch.
Melody is secretly wondering whether anyone will notice if she were to eat Emma Jane!
These days Emma Jane is bigger, and they are both the prettiest of princesses!

Once again, two more children have been added to the herd!
Charlie is just making sure that John is tough enough to hang with this crowd!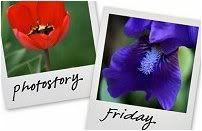 Hosted by Cecily and MamaGeek