I love my two little girls more than I ever imagined possible! But there are two other children on this planet that I love just as much!
Who are they?
My sister's kids, Morgan and Ryan. I am blessed with a sister who is also my friend and because of our close relationship, I am close to my niece and nephew! And I love that my children and her children are not just cousins. They are friends too!
Ryan, Morgan, Libby and Emma Jane at Thanksgiving 2008
Today I am giving a little blog love to Ryan. He is the only boy of this generation in our family and it's tough being the only boy! (I'm assuming, since I have no personal experience with being the only boy.)

Ryan holds an extra special place in my heart because not only is he my nephew but he also shares my birthday! On July 27, 2007 I received a phone call from my brother-in-law to wish me a happy birthday. Since my sister was not due for another 3 weeks, it didn't occur to me that the phone call was anything other than birthday wishes for me. And Pat did not correct my assumption! We chatted for several minutes about how I had spent my day and then Pat said, "Oh, I am going to have to call you back! We're at the hospital and Catie is having a contraction!"
*dial tone*
WHAT???
Two hours later, I got the best birthday present: Ryan!
Seriously, how cute is this kid?!
Not only is Ryan supercute, he is also enormous!!
He didn't appreciate that comment!
He's only 18 months old but he weighs as much as my almost 4 year old and is nearly as tall!
His pediatrician expects him to grow another 4 to 6 inches by his 2 year check up in July! That is more than my kids grow in a year! If his rate of growth holds, by adulthood he should be 6'7'', 300lbs. I see professional football in his future!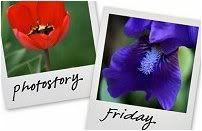 Hosted by Cecily and MamaGeek