Going to the beach during the winter months just to people watch is really fun for me. (I know, weird!) It is just so obvious who is a local and who is a tourist at this time of year.
Those of us who are from the sunshine state, start to get a chill as soon as the temperature drops below 80. By the time it reaches 65, we are downright cold!! (Anything below 60 is considered freezing and on those days Target is bombarded my moms trying to find last minute jackets and sweaters to keep their kids warm during the freak cold snap!)
For those that live in parts of the country where the average winter temperature falls in the negative numbers, we Floridians are clearly wimps that don't know what real cold feels like! (That is probably true!) I am sure the snowbirds traveling to the beach to escape temperatures hovering at -30 are practically melting in the mid-sixties "heat wave" we have in January. Which is understandable when you do the math. It is a difference of almost 100 degrees!
I still think it is funny to watch the locals bundled up in their jackets (myself included) watching the vacationers splash around in the cold ocean like it is the fourth of July!
These people are clearly Florida natives:
These people are NOT!!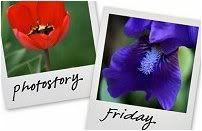 Hosted by Cecily and MamaGeek